Odessa Vineyards Ukraine | Tours of the Best Wineries 2021
Add to wishlist
Added to wishlist
Removed from wishlist
0
Group Size
4-10 people, Couple
Tour Type
Scenic Tour, Wine tasting
Odessa is often called the "pearl of the Black Sea", and for good reason. Situated on terraced hills overlooking the coastline, this seaport city draws crowds of tourists every summer.
The city has much to offer its visitors – from sunny beaches to quaint courtyards and spacious parks, there are many places to explore in this part of Ukraine.
If you are looking for things to do in Odessa, a visit to one of the local vineyards should definitely be on your list. Ukraine has a well-established wine industry with a wide variety of Odessa wines for you to discover.
We have put together a list with our top picks of tours to local vineyards which are certain to delight you. And if you are interested in architecture and history too, why not combine your wine tasting tour with a visit to the famous medieval Akkerman fortress.
Highlights:
Wine tasting included in every tour
Hotel pick-up and drop-off included
Learn about wine making from professional guides
Know before you book:
You must be at least 18 years old to participate in the wine tastings
Food and other drinks are not provided
Tours are quite pricey
Odessa is a port city in the southern part of Ukraine, located on the shore of the Black Sea. Its moderate climate not only draws tourists from across the world, but is also ideal for the wine industry.
Ukraine has a long tradition in wine making and many of their wines are exported to neighbouring countries, the European Union, and even all the way to the United States. In the Odessa region alone, there are more than 10 successful wineries.
A wide variety of grapes are cultivated across the Ukraine, including Chardonnay and Pinot noir. In recent years, the production of sparkling wines has also increased around large cities like Lviv and Odessa.
Shabo is one of the largest wineries in Ukraine. Their wines have also won awards at some of the world's best tasting competitions. In 2009, Shabo opened a Wine Culture Center where they hold regular tours and wine tastings.
The Tairov Institute of Viticulture and Winemaking is another prominent part of Odessa's wine industry. The institute conducts research into priority areas of winemaking, and in 2003 it was awarded the status of National Scientific Center for the notable work done there. The Tairov Institute also holds regular tastings and tours.
Odessa Vineyard Tour Prices 2021
The cost of tours to Odessa's Shabo and Tairov vineyards start at about ₴1736.60 ($65 USD) and go up to ₴5270.15 ($197.26 USD), depending on the length of the tour.
These tours may sound expensive, but for wine lovers it is definitely worth the money spent. All the tours include wine tastings and extensive tours of the vineyards and cellars.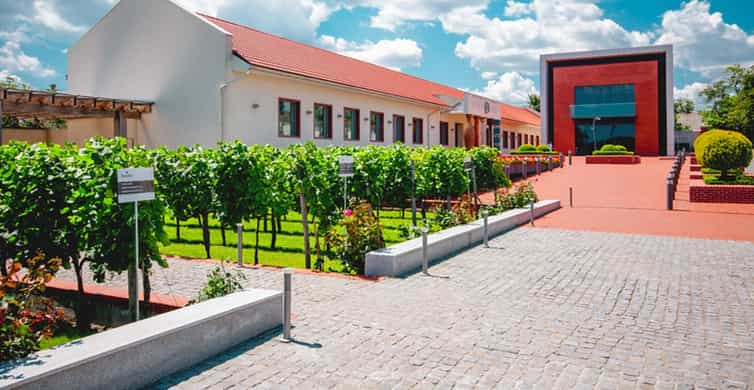 Odessa Wine Tasting & Tour Times
Each winery has their own open hours, and some visiting times depend on the type of tour you choose.
Shabo half-day tour: 9am – 2pm, or 2pm – 7pm
Shabo full-day tour: 10am – 4pm
Tairov 3-hour tour: Choose your own time at booking
Best Time to Go on a Vineyard Tour
Late summer to early fall is the most pleasant time to visit Odessa's vineyards. During this time, around August to October, the weather is comfortably warm and the vines are heavy with grapes. As it is harvest time, there is a lot of activity at vineyards and wineries for you to observe and enjoy.
Odessa Vineyards Tour Options
Here follows the details of the three tour options to some of Odessa's most well-known vineyards. Rest assured that all of these tours provide an enjoyable experience and are led by professional guides. You can simply choose the one that best suits the time and money you want to spend.
Half-Day Shabo Wine Culture Center Tour
During this 5-hour tour, you can learn more about the winemaking process, as well as taste some of Shabo's award-winning wines.
The Shabo Wine Culture Center is located about an hour from the city of Odessa. The tour starts with a pick-up from your hotel and transport to the winery in a private vehicle.
This extensive tour takes you around the grounds, cellars, and other buildings. You will get to see the terroir vineyards where Shabo grows all their varieties of grapes. A tour of the grounds will also take you past the fountain of Dionysus and the only monument to a grapevine in Ukraine.
You will get to visit fascinating buildings on Shabo's grounds, such as the museum and wine house. In the museum, you can learn more about Shabo's history, and in the wine house your expert guide explains the process of making and bottling the different wines.
The last part of the tour involves a wine tasting of some of Shabo's finest white and red wines. Afterwards, you can spend some time in their shop to buy your favourite wines. Shabo also produces and sells sparkling wines, cognac, and brandy.
What we liked: In-depth tour of the whole vineyard and facilities.
---
INCLUDES:
Hotel pick-up and drop-off
Wine tasting
Tour led by a professional guide
EXCLUDES:
Food and drinks
Wine buying tips
Check Price & Book
---
Full-Day Shabo Wine Culture Center Private Tour
This full-day private tour of the Shabo Wine Culture Center gives you the freedom to linger at places that you find interesting.
Just like with the Shabo half-day tour, you will be picked up at your hotel in Odessa and brought to the Center in a private vehicle. Your experienced guide will take you on a tour of the vineyards and different buildings.
The Shabo winemakers' policy is that they keep no secrets from their consumers, and so visitors are welcome to look in at all the facilities as part of their tour. You can explore the sherry cellar, cognac house, sparkling wine house, and many more fascinating places.
Shabo's museum has movies for you to watch that will bring the winery's history to life. Your knowledgeable tour guide will also be happy to answer any questions you have about the history and current processes of winemaking.
Towards the end of your tour, you can enjoy a wine tasting of a variety of Shabo's best beverages in an elegant tasting room. Afterwards, you can linger in the wine shop, which offers the entire range of Shabo's products. Your friendly tour guide will be close by to provide you with inside tips about the best bottles to take home as souvenirs or gifts for friends.
What we liked: Flexibility of a private tour lets you enjoy the vineyards at your own pace.
---
INCLUDES:
Hotel pick-up and drop-off
Wine tasting
Wine buying tips
Tour led by a professional guide
EXCLUDES:
Food and drinks
Wheelchair accessibility
Check Price & Book
---
Tairov Winery 3-Hour Tour
This tour of the Tairov Institute of Viticulture and Winemaking is not only an educational excursion but also gives you the opportunity to taste delicious high-quality wines.
When you book this tour, you can choose a 3-hour time slot that best suits you. A private air-conditioned vehicle will be sent to pick you up from your hotel in Odessa.
A knowledgeable guide will take you on a tour through the Tairov Institute, which is the oldest research facility on winemaking in Ukraine. The tour takes you through Tairov's wine cellar, where you can see the wines you will be tasting later on.
A visit to the Museum of the History of Viticulture and Winemaking of Ukraine gives you an enlightening look into the country's tradition of producing fine wines. The tour guide also takes you on a walk through the beautiful arboretum.
The tour also includes a tasting of Ukrainian wines made right there in the Tairov winery. The institute produces more than 30 types of wines from grapes of their own breeding.
This is not just an educational institution, as you will soon realize when you taste the amazing wines they have on offer. Many of these wines have received gold, silver, and bronze medals at international competitions.
What we liked: Educational tour for those interested in the research that goes into winemaking.
---
INCLUDES:
Hotel pick-up and drop-off
Wine tasting
Tour led by a professional guide
EXCLUDES:
Wine shopping
Food and drinks
Wheelchair accessibility
Check Price & Book
---
Explore Odessa's vineyards and taste some of the finest wines the city has to offer. The available tours let you spend between 3 to 7 hours learning about winemaking in addition to the tastings. Ask questions of your experienced tour guide and learn more about Ukraine's history in the wine industry.
PROS
High-quality wine tasting as part of every tour
Learn about wine making from a professional guide
Pick-up and drop-off at your hotel in a private vehicle
CONS
Tours are quite expensive
No food or drinks provided during tours
Most tours are not wheelchair accessible
Specification:
Odessa Vineyards Ukraine | Tours of the Best Wineries 2021
| | |
| --- | --- |
| duration | 3-7 hours |
| group-size | 4-10 people, Couple |
| tour-type | Scenic Tour, Wine tasting |
| transport | Private Car |
Odessa Vineyards Ukraine | Tours of the Best Wineries 2021