Palanok Castle | Mukachevo, Ukraine 2021
Add to wishlist
Added to wishlist
Removed from wishlist
0
Duration
Full day - seven days
Palanok Castle, also known as Mukachevo Castle, is one of Ukraine's most unique historical landmarks. It's located in the city of Mukachevo (also spelt Mukacheve) and was constructed on a former volcanic hill, giving it a dramatic appeal. It shoots up from the valley below and dominates the landscape.
Its historic allure coupled with striking scenery makes visiting Palanok Castle one of the coolest things to do in Ukraine. Whether you're touring to check out the architecture, discover the history, or admire the views, you're in for a real treat. And the good news is, there are multiple options for visiting it.
Highlights:
Visit one of Ukraine's most important castles
Witness breathtaking views of the city of Mukachevo
Combine a trip to Palanok Castle with other top Ukraine sites
Know before you book:
Expect crowds during peak season
Castle contains stairs, ramp, and uneven ground
Limited time spent exploring the castle
There's no solid documented evidence of the original construction of Palanok Castle. However, it's believed that the current structure was built in either the 10th or 11th centuries. Although some parts are in disrepair, the historic fortress, for the most part, has been very well preserved throughout the years.
This large castle contains three different parts: the high, middle, and low castle. There are also observation decks where you can admire stunning views of the city and surrounding landscape, including the Carpathian mountains.
Each tour includes a trip to Palanok Castle as well as other Western Ukraine points of interest.
Palanok Castle, Mukacheve Prices 2021
The cost of a ticket to visit Palanok Castle is about $2 USD (₴ 50). A single-day guided tour that takes you to the castle and nearby attractions is between about $220 USD and $300 USD.
There is also an option for a multi-day tour that's about $1,808 USD (₴ 47351.63).
Compare prices across the ticket providers below: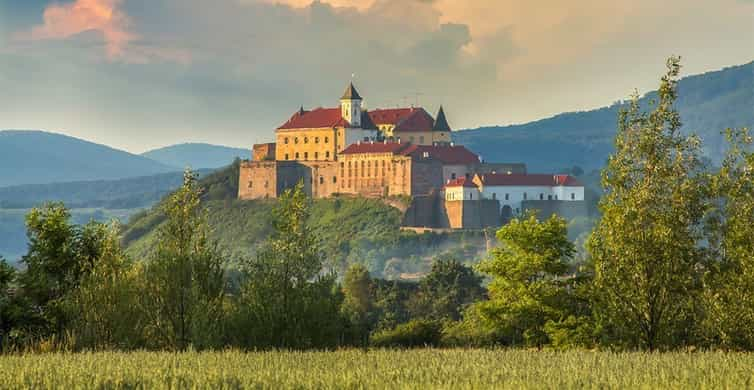 Ukraine Castle Opening & Closing Times
Palanok Castle is open every day from 9:00 am to 6:00 pm. Ukraine holidays may affect these hours.
Monday – Sunday: 9am – 6pm
Best Time to Go to Palanok Castle in Mukachevo, Ukraine
Palanok Castle is beautiful year-round. The best time to visit comes down to several factors which are addressed below.
Time of Year – The winter months in Ukraine (December to February) produce cool temperatures between 23° F and 47° F (-5° to 8° C). A good portion of the exploring you'll do will be inside the castle. However, you'll be exposed to the elements (which can include snow) in the outdoor areas, like the courtyard and observation decks.
Time of Week – Weekends are the busiest times to visit Palanok Castle. If you'd rather avoid the crowds, it's better to visit Monday to Friday.
Time of Day – For a more peaceful and non-touristy castle experience, the best time of day to visit is either in the morning right after the castle opens, or an hour or two before closing.
Palanok Castle Tour Options
This stunning Ukrainian castle is accessible through several different tours. Here are the best tour packages that take you to Palanok Castle as well as other popular points of interest.
From Lviv: Full-Day Trip to Mukachevo
Travel from the city of Lviv to Mukachevo on a full-day tour. You'll visit three enchanting castles: St. Miklos Castle, Castle Shenbornov, and Palanok Castle. You'll also enjoy some free time at your last stop, the city of Mukachevo.
This tour option allows you to discover the country's past and admire the rural scenery as you're comfortably transported through the Ukrainian countryside.
What we liked: See three Ukraine castles in one day.
---
INCLUDES:
Professional guide
Hotel pick up and drop off
Admission to all three castles
EXCLUDES:
Gratuities
Hotel pick up outside of Lviv
Food and drinks
---
If you're a fan of history and architecture, this tour is for you.
Check Price & Book
---
7-Days Western Ukraine and Carpathians Tour from Kyiv by Private Vehicle
If you have more time to spend in Ukraine and want a more comprehensive tour of the highlights, this seven-day tour is for you. Six nights accommodation, a private tour guide, breakfast, and transportation are all included.
Travel to the Western Ukraine cities of Lviv, Uzhhorod, Yeremche, Ternopil, Kyiv, and more. Some of the activities included in the tour are wine tasting, visiting the Tunnel of Love near Klevan, and the Pysanka Easter Egg Museum. Each day is full of discovering new sites.
What we liked: An easy way to tour Ukraine and see the highlights.
---
INCLUDES:
6 nights of accommodation
Breakfast each morning
Air-conditioned transportation
EXCLUDES:
Food and drink other than breakfast
Gratuities
Wheelchair access
A no-hassle tour that fills seven days with visiting Western Ukraine's top sites.
Check Price & Book
---
A Journey to Transcarpathia, Mysterious and Wild
This private tour is very nature-oriented. It starts in Lviv and then travels around Western Ukraine. You'll visit historic sites, like Palanok Castle, the Historical Center of Lviv, and Saint Miklosz Castle.
There will also be lots of discovering the great outdoors, with scenic stops at places like the Carpathian Mountains, Synevyr Meadow, and Pylypets mountain resort.
What we liked: Combines Ukrain's historic attractions with outdoor sightseeing.
---
INCLUDES:
Accommodation for most nights
Breakfast and dinner
Transfer from/to airport
EXCLUDES:
Accommodation in Lviv (own expense)
Gratuities
Wheelchair access
This tour allows you to discover Ukraine's culture and natural scenery.
Check Price & Book
---
These tours offer a fabulous way to explore Palanok Castle as well as other attractions in Western Ukraine. Each offers something slightly different so there's something for everyone.
PROS
Learn the history from your guide
Visit the castle and other sites
Transportation included
CONS
Not wheelchair accessible
Time spent at the castle is limited
Itinerary is not flexible
Specification:
Palanok Castle | Mukachevo, Ukraine 2021
| | |
| --- | --- |
| Accessible | Not wheelchair accessible |
| Duration | Full day – seven days |
| Inclusions | Professional guide |
| Exclusions | Gratuities |
| Meals | Some meals included |
| Pick-up | Included |
| Suited for | Solo travellers, couples, families |
Palanok Castle | Mukachevo, Ukraine 2021